Overview
Central Drugs Standard Control Organization (CDSCO) is an Indian health authority prevailing under the Drugs and Cosmetics Act. CDSCO has six (06) zonal offices, four (04) sub-zonal offices, thirteen (13) port offices and seven (07) laboratories under its control.  The Drugs & Cosmetics Act, 1940, has entrusted various responsibilities to central and state regulators for regulation of drugs & cosmetics. Major functions of the CDSCO are Regulatory control over the import of drugs, approval of certain licenses, approval of new drugs, clinical trials, Subsequent New Drug (SND), Fixed Dose Combinations (FDC) & Investigational New Drug (IND). Central License Approving Authority (CLAA), Medical devices meetings of Drugs Consultative Committee (DCC) and Drugs Technical Advisory Board (DTAB) is exercised by the CDSCO, DCGI headquarters. CDSCO is constantly thriving to bring out transparency, accountability and uniformity in its services in order to ensure safety, efficacy and quality of the medical product manufactured, imported and distributed in the country.   The  CDSCO houses a welcoming yet strict Regulatory practices and thus, an applicant with a proper Regulatory guidance can succeed in India.
Medicinal Product Classification 
Medicinal products are classified into four categories. 
New Drugs (ND) 
Subsequent New Drug (SND) 
Fixed Dose Combinations (FDC) 
Investigational New Drug (IND) 
Medicinal Product Registration
Market Authorization Procedure:
  Marketing authorization procedure consists of the following steps: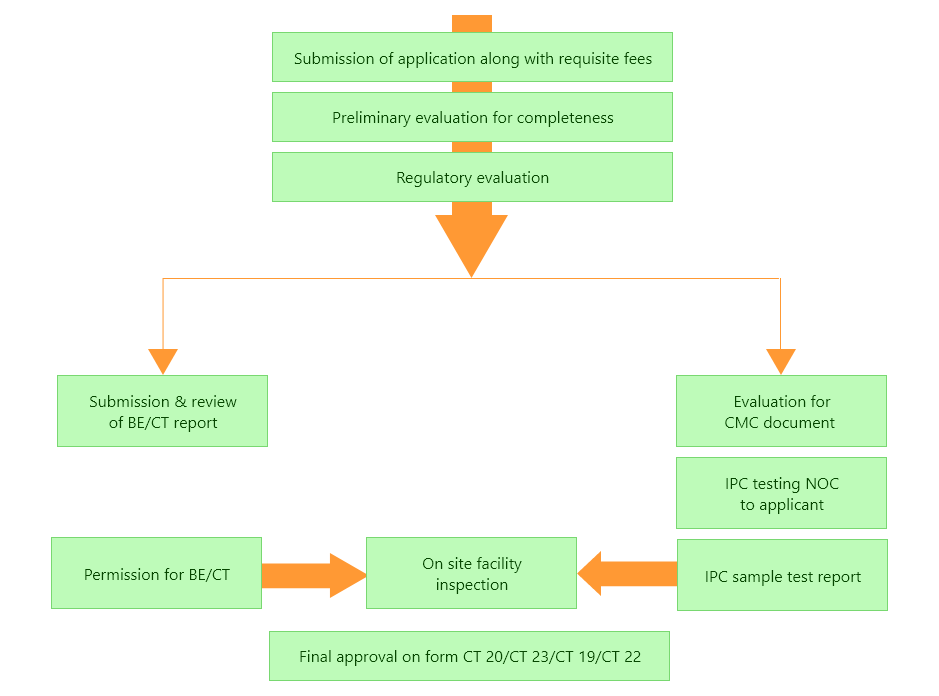 Importance of Local entity for a Foreign Manufacturer:
For any foreign manufacturer who does not have an office in India, an appointment of in-country representative to hold the Marketing Authorization Holder (MAH) is mandatory for the approval of market authorization application. The in-country representative will be responsible for the authenticity of documents, correctness of information and periodically follow-up with HA for the registration dossier, submitted to HA. 
MAH should have the credentials for online SUGAM portal. 
Product Maintenance & Compliance
| | | |
| --- | --- | --- |
| Sl. No | Application | Validity |
| 01 | Validity for import registration | Three (03) years from the date of registration |
| 02 | Renewal of import registration certificate | Nine (09) months before the expiry of the existing certificate |
| 03 | Validity for import license | Three (03) years (till the registration certificate is valid) |
| 04 | Renewal of import license | Minimum three (03) months before of the expiry of the import license (applications for the import license should be submitted along with the application for renewal with importer). |
Any change (major/minor) of registered medicine should be filled and submitted to CDSCO with relevant documents.
Freyr Expertise
End-to-end Registration Support 
Authorized Local Agent Support
Manufacturing Site Approval Support 
Import Registration Support
Sample Import License Support 
Regulatory Affairs Consulting
Gap Analysis of the Dossier as per the CDSCO Regulatory Requirements
Preparation of Gap Analysis Report and Remediation Plan
Pharmaceutical Dossier Preparation and Submission to the CDSCO
Query Support Management till Approval 
Pharmaceutical Life cycle Management Support
Ad-hoc Regulatory Consultation